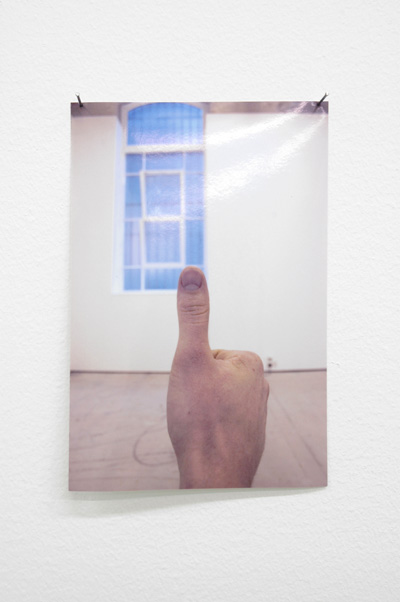 Everything I'd Ever Known Is Behind My Thumb, 2008
6 x 4" Inkjet print
4 October – 2 November, Moot, Nottingham
Colour photograph of artists thumb in the exhibition space, hiding the world globe used in the work, Losing Costs. The title refers to a quote by Captain Jim Lovell of the Apollo 8 space mission forty years earlier who, on seeing earth from orbiting moon said, "At one point I sighted the earth with my thumb—and my thumb from that distance fit over the entire planet. I realized how insignificant we all are if everything I'd ever known is behind my thumb. But at that moment I don't think the three of us understood the lasting significance of what we were looking at".
(The Earth Behind a Man's Thumb, Tom Brokaw, NEWSWEEK- From the magazine issue dated Nov 19, 2007).