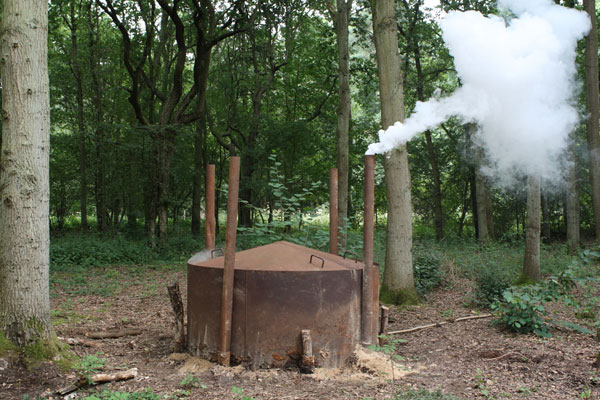 Where There's Smoke, 2011
Charcoal kiln, sand, smoke machine, computer and cables, ducting, laser-etched plywood and timber plaques
The Charter Of The Forest, Chambers Wood, Lincolnshire
(in collaboration with Blue Firth, as Via Vaudeville!)
"Positioning a seemingly functioning charcoal burner within the wood Via Vaudeville! wished to use it as a symbolic device of sustainability for the forest. Playing with the burner's status and familiarity it was used as a communicative apparatus, doctoring it's usual smoke output with coded smoke signals taking cues from traditional English protest sings. The sustainability of coppice crafts and traditional song have long been linked but here point to their adaptive ability to shift and transform to new environments and functions as needed.
This new work also highlighted the longevity of mans maintenance of the forest whist being humorously inefficient to produce clear concise messages. Ravelled in code and ephemeral in nature, the coded smoke messages nodded towards the entropy of protest and reward, both in the past- as in The Charter of the Forest*- but also within a more contemporary political climate." -Via Vaudeville!
*more information on the charter and the exhibition can be found here:
lincolnartprogramme.co.uk/charter.html